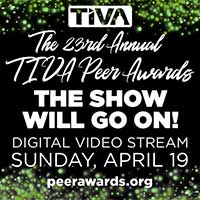 04 May

2020 TIVA-DC Peer Awards

Congratulations to all nominees and winners of the 23rd annual TIVA-DC Peer Awards. Despite great challenges, the live streamed ceremony was pulled off without a hitch thanks to the TIVA Team lead by Bill Coughlan and Todd Clark, Glass River Media, and Interface Media Group this past Sunday evening, May 3rd.  After being cooped up for eight weeks, this event offered a much needed chance to chat online with old friends while honoring the best of the DC Film and Video production community who were recognized for their excellence.
Reminded of Years Past
While enjoying the virtual event this year, I was reminded that the first ITVA Peer Awards (sponsored by the organization which preceded TIVA-DC) were held just three weeks after 9/11 under eerily similar circumstances.  None of us had been out of the house for three weeks, afraid to go anywhere.  On that day, the world changed in ways that we could hardly fathom.  However, we learned how to fly again, and we will learn how to come back together as a country, when the invisible foe is vanquished. What has been the continuum over the years is our affection for friends we made along the way.
Honoring Our Peers
I was also reminded of one of the first DC area film related events that I attended in Silver Spring, which was also attended by Kimberly Skyrme. Kimberly had her own casting agency and was imbued with an incredible spirit of volunteerism.  She credited her own mother who stressed the imperative of volunteerism for the good of Humankind.  It was wonderful to see her recognized by TIVA with the Steve Wallace Community Service Award.
Distinguished Achievement
Even though Jerry Griffith finished his term as president of TIVA several years ago, he has remained an engaged member of the TIVA volunteer base.  Over the years, Jerry has held critical leadership roles for many TIVA events and projects. We all respect his professional yet kind demeanor, his good humor, and his frank leadership style that always tries to get right to the point of the issue.  Taking on the Judging Chair in addition to all his other accomplishments made him a logical choice to receive this year's distinguished achievement award.  Congratulations Jerry!
Our Big Debut
During the media presentation, Word Wizards was given the opportunity to show our new company promotional video for the first time. Starting in 2019 our company has been updating our brand to reflect the ways which we have grown as a business. With the public release of this new promotional video, and our new website (which you are currently enjoying) that brand update is now complete. Please watch our new video if you did not have a chance to see it already!
One For The Books
We have entered a new age of digital production due to these times of great crisis and uncertainty. Now more than ever, it is all the more important to find new ways to engage as a community, and stay connected with each other. We are so happy to continue our efforts to support TIVA-DC and the Peer awards, now and into the future. Our sincere thanks to everyone who worked so hard to make this year go on despite the great difficulty we face.   Best to you all.