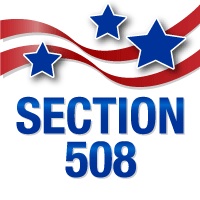 13 Jul

508 Refresh – Public Comments Closed: Our Contribution

The time for public comments before the US Access Board regarding the 508 Refresh has passed. Word Wizards (WW) submitted our own comments in support of 508 accessible transcripts as a viable alternative to prerecorded material, in order to provide increased access for deaf and hard of hearing, as well as blind and low vision persons. You can find the full text of our public comments to US Access Board via this link.
508 Transcript as Prerecorded Media Alternative
508 transcripts provide access for people with disabilities, at lower cost and with quicker turnaround time than traditional Closed Captioning (CC) and Audio Description (AD) in some instances. In those instances, they can be deemed as good, or better under the concept of equivalent facilitation, recognized by the existing 508 law and pending 2015 refresh. We intend that they be used by agencies and their video production departments, when the traditional alternatives of CC or AD are either too expensive, or are not feasible for technical reasons.
The Access Board has announced that current accepted international standards will be incorporated by reference into the updated 508 rules. These standards, referred to as WCAG 2.0, specifically mentions media alternatives for prerecorded material, which include 508 compliant transcripts, at section 1.2.3. Here are two case histories where 508 transcripts provided more access for less money than traditional CC or AD.
Case Study No. 1 – Fast and Affordable

In early 2014, a client asked us for help achieving 508 compliance for a video, with a rapid turnaround deadline and a low budget. The client had only two days and a minuscule budget to produce the video and provide access using AD. We suggested a 508 complaint transcript as an alternative. The end product was a fully compliant PDF document, with all nonverbal elements described in the body of the transcript. This PDF was remediated to make it compliant and accessible to screen readers for the Blind and Low Vision people. By including all visual material in the document, we were able to satisfy the requirement of WCAG 2.0 – Section 1.2.3 to convey all visual information.
The document was produced for half the cost of standard AD, because there is no need for a media specialist to record and mix audio content into the source video. In this case, budget and speed were the client's priorities -and a 508 compliant transcript did the job twice as fast, at half of the cost.
Case Study No. 2 – Complex Visual Accessibility

In instances of highly complex video content, 508 transcripts provide a level of visual description otherwise impossible with conventional AD. In the summer of 2014, WW used a 508 transcript to assist a client who was working on a high-profile Federal investigation. During this sensitive inquiry, a video presentation was created to summarize the findings of the agency's investigation. The video was long and visually elaborate, consisting of different camera feeds spliced together, views with multiple screens simultaneously, and an uninterrupted audio track blended from several sources.
Given the intricacies of the mixed media, conventional AD was not feasible. The audio content had no pauses, thus making it impossible to place Audio Description content within the existing audio track. At the final stages of this investigation, a concerned family member, who was blind, insisted on receiving an accessible version of the video in order to fully understand what had happened in the case. We suggested a 508 compliant transcript to provide complete accessibility.
Conclusion
As the Access Board prepares to refresh the standards by which Section 508 compliance will be evaluated, we encouraged inclusion of 508 transcripts as a viable option in appropriate circumstances. When budgets are constrained, rapid turnaround is required, and/or visual information is highly complex, 508 transcripts fulfill real and significant needs.
Existing 508 regulations and the pending 2015 Refresh, recognizes the need to reduce undue burden on the agencies by permitting the use of media alternatives which are as good as, or better, than conventional means at achieving accessibility for people with disabilities. These comments were submitted in order to bring our actual experience to the attention of the accessibility and video production communities. As long as the international standards of WCAG 2.0 are incorporated by reference into the 2015 Refresh,  508 compliant transcripts will be included on the list of acceptable media alternatives (for prerecorded content).