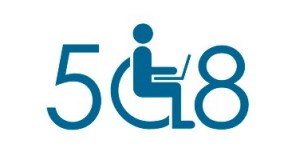 08 Dec

ADA and 508 Accessibility: Comparing Two Standards

Both Section 508 of the Rehabilitation Act (508) and Title III of the Americans with Disabilities Act (ADA) are made up of laws and guidelines requiring information to be made available to all members of the public, regardless of sensory disabilities. Closed Captioning (CC),  Audio Description (AD), and accessible digital publication technology (508 remediation), are the gold standard for providing media that is fully accessible and compliant with both these regulatory standards.
Section 508
508 requires that accommodations be made for government employees and members of the public with disabilities who wish to access Government Information and Communications Technology (ICT), including Government websites and multimedia. 508 compliance is overseen by the U. S. Access Board, an independent agency under HHS, which promotes equality for people with disabilities through leadership in accessible design and the development of accessibility guidelines and standards. During 2015 the Access Board has conducted requests for public comments related to the accessibility rules and guidelines in their efforts to institute a "508 refresh" or update to the 508 accessibility requirements. Word Wizards has submitted comments, including our revelations about new ways to achieve accessibility of ICT through the use of 508 Compliant Transcripts.
Read more about our comments here
The Americans with Disabilities Act
Signed into law 25 years ago by President George H.W. Bush, the ADA derives authority from the primary Federal civil rights law, the Commerce Clause of the Fourteenth Amendment to the U.S. Constitution, and as such is overseen by the Civil Rights Division of the Department of Justice. The ADA is a broader application of accessibility standards to influence commercial and social practices related to persons with disabilities. Title III of the ADA requires that businesses, state and local governments and nonprofit services providers make accommodations for the disabled public to access the same services as patrons who are not disabled. Movie theaters, digital media, websites, and ICT are required to be accessible to people with disabilities.
Evolving standards
In one recent case (NAD v Netflix) the Western Mass. Circuit Court held that even though Netflix was based solely on the internet, they had to offer captioned movies for their "watch instantly" streaming service, because they were dominant in interstate commerce, with 60% of the available market. That case was settled out of court with Netflix agreeing to caption everything going forward. However another jurisdiction, the federal appeals court (9th Circuit), ruled in a class action suit that the ADA doesn't apply to Netflix, since the online video provider is, "not connected to any actual, physical place." Never-the-less, the trend is towards more accessibility in services offered to the public rather than less, including film and video.
Comparing 508 and ADA
Ultimately, ADA protects the civil rights of persons with disabilities participating in interstate commerce; whereas Section 508 is a set of regulations related to access to Government ICT. 508 compliance provides accessibility for digitally published material within government agencies and entities. ADA standards apply broadly to society, commerce, and government as a whole. A comparison of 508 and ADA regulations reveals a trend of increasing complexity of accessible media technology. Word Wizards mission is to serve the needs of an evolving industry as the number of people with sensory disabilities in our society continues to grow.