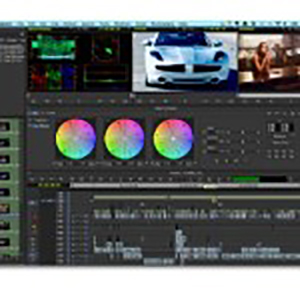 03 Jun

Future Media Concepts Presents: Editing Tech 101

Heavily involved in many aspects of post-production, Word Wizards realizes that editing is where the magic begins. And choosing the right editing software for your project—Adobe Premiere, Avid or Final Cut—is essential. A huge thank you goes out to TIVA who recently sponsored an incredibly informative panel discussion at Future Media Concepts, Comparing Editing Platforms, which addressed the issue. Panelist included three talented editors, Virginia Quesada, Sylus Green and Matthew Nagy. Attendees spent half an hour with each editor to learn about their preferred editing software.
Avid Media Composer:
Virginia Quesada a well-known trainer and editor at Future Media Concepts demonstrated Avid Media Composer. She explained that the software easily handles transcoding and consolidation. And how the software efficiently cleans movie files and copies them for editing. According to Quesada, Avid Media Composer imports and accommodates footage from the 4K camera without difficulty while the point tracker effects allows you to simply and seamlessly change the frame of an object within an image. The corrective effects like color correction are smooth are easy to use by editors of all levels.
Adobe Premiere
Editor Matt Nagy explained why he is such a big fan of Adobe Premier. The importation of files by the software does not require transcode and works with most formats. Premiere also plays seamlessly with the rest of the Adobe family of products including Photoshop or After Effects. For example, an audio clip you are adjusting in Premiere can be dropped into Adobe Audition for tweaking then returned to Premiere.  And the warp stabilizer that smoothes out your footage gives more of a steady cam look. Important to note: Adobe offers comprehensive support for camera formats and plugins immediately after release.
Final Cut Pro
Editor Sylus Green explained that Final Cut Pro Version X is very different from Version 7 and this has frustrated many users since it was missing some features they had become used to. Because of the criticism, Apple returned some of the functionality that editors demanded into the program through updates. This included reinstating features such as multicam editing, XML support, Red camera support with native REDCODE Raw Editing and editing individual audio channels right into the timeline.  And the cost of FCP X at $299 is less expensive when compared to other editing software. Green praised the keyword and smart collection tool in FCP X that aids searches, and is a favorite among documentary makers. The retiming tools of X allow you to manually affect the speed of a clip by simply dragging a bar over it. In FCP X the multi-cam editor easily and quickly syncs your work, a big change from the clunky FCP 7.
The Perfect Fit for You
While each of the different software had their own strengths, there were a few downsides. Instead of simply purchasing the software, with Adobe you must subscribe on a monthly basis to use all the features. However, Adobe, Avid and Apple all allow you try their software for a trial period. Different editors like different features, so try before you buy!