20 Aug

How News Archives Are Reaching Out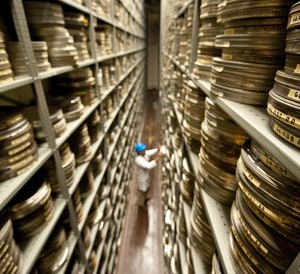 Earlier this year, I wrote an article about how the National Archives is a treasure trove of stock footage for films and documentaries. Just the other day, I was reading a documentary magazine and happened to come across an article that serves as a perfect companion piece. The article, titled "The Past Is Never Dead: News Archives Keep History Alive" and written by Ron Deutsch, explores how different news archives are helping to ensure that the past never really dies and is always preserved for future generations. While we at Word Wizards love seeing this old footage preserved for use in documentaries, we also realize just how much of a tool it can be to explore the past in all sorts of ways.
Network Archives
In the past, filmmakers and videographers often had difficulty obtaining historical news footage from television news divisions because these companies were unwilling to license said footage, or in some cases didn't even have an archive that was properly maintained. Come 2013, things have changed dramatically as this same footage is easily accessible via a couple of clicks or a phone call. A prime example would be the HBO Archives, which houses over 40 years of programming in addition to four decades worth of footage from The March of Time documentary newsreels. As Max Segal points out "Because I used to be a feature producer on the sports side, I understand the struggle of not having the right footage or right images. We see ourselves as partners with documentary producers or any producer."
Making It Easier For Producers
Another well known archive of footage is the ABC News collection, which dates back as far as the 1960's. This archive, which falls under ABC News VideoSource, is accompanied by the British Movietone library, a collection beginning in 1896 and going through to the end of the 1960's. It also houses The AP News Archive, a sports collection that has footage from programs such as Wide World of Sports and Monday Night Football. The current goal amongst these large archives is to build relationships with filmmakers and to make their footage easily accessible. Independent Archival Researcher Rosemary Rotondi says this is key and that it is great when the archives actually gets excited about a filmmakers project, as this leads to better collaboration. She also points out how important it is to remember that these archival researchers work quite hard in an often thankless job.
Accessing The Goods
Physically, both the ABC News and HBO Archives are based in New York City and actively encourage film and documentary producers to come into their offices to screen requested footage that isn't on their websites. One more well known archive collection is T3 Media, which manages licensing for many international news archives including BBC News, National News Archives of Australia and the Japanese Broadcasting Company. Rounding out their offerings is a collection of sports and nature programming footage from NCAA Sports and National Geographic. While T3 Media does not have in-house viewing, they are more than happy to have documentary makers come and sort through their 10 million hours of offline content in addition to the one million clips they do have available online.
Discovering Incredible Images
Florentine McMahon, who is researching a new documentary on ground breaking baseball player Jackie Robinson, tells of an incredibly moving discovery he made recently. He had just ordered a slew of stories from the CBS News Archive and one of them was footage of outtakes from the 1963 March on Washington. He then remembered that Jackie Robinson's widow, Rachel Robinson, had told him about the entire Robinson family going to participate in the march. So McMahon went back to sort through the footage and sure enough, about three-quarters of the way through, there was Jackie Robinson with his arm around his son. It's stories like this that make these archives so important and such a valuable tool to filmmakers the world over. To read more about these archives and the rest of the much larger article, check out the site here.