14 Dec

Napa Valley Film Festival – The Highlights
Film Tasting
Napa Valley known as wine country once again magically transformed into movie country with a touch of "Hollywood." The third annual Napa Valley Film Festival—November 13-17th 2013—showcased 125 independent films to enthusiastic audiences. A gathering of 300 varied filmmakers attracted high-profile celebs like Colin Farrell, original Batman Adam West, Karate
Kid's Ralph Macchio, Alan Cumming, filmmaker John Lee Hancock and Glee's Dianna Agron. Check out the sizzle reel in the middle of the article to see them as well as other great festival moments. Producers and supportive filmmakers alike believe the success of the festival enhances the economic diversity and cultural landscape the Napa Valley Region and could influence the quality of film nationally, even internationally.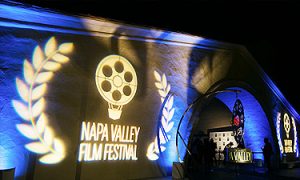 The Festival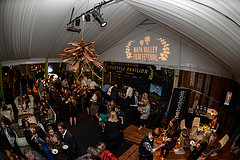 The festival took place in four nearby towns in the Napa Valley Region: Napa, Yountville, St. Helena and Calistoga. Along with the hundred plus films, other events included a veteran's day program with veteran-themed films, a studio sneak peek at big studio films before distribution, as well as a gala, awards ceremony and wrap party.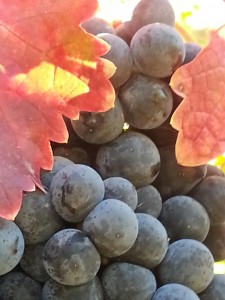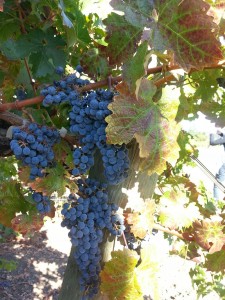 Festival attendees not only experienced great cinema but also sampled scrumptious cuisine prepared by the region's leading chefs and showcased at the Dacor culinary stage. The Zesty Contest encouraged patrons to identify movie-inspired dishes and tag them on social media while wine flowed in area pavilions located in each town.VIP filmmakers and celebrities were treated to delightful winemaker dinners with participating vineyards  including: Beaulieu Vineyards, Cardinale Winery, Hall Wines and Jessup Cellars.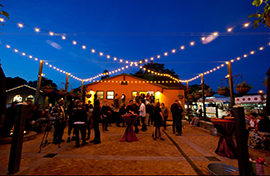 For relaxation, the festival sponsored luxury lounges, while other spaces called gathering porches encouraged attendees to mingle with filmmakers. This year the festival opened yet another social venue that mixed food, tech and media. At the Sony Digital Lounge located in the Napa Lifestyle Pavilion patrons experienced the Sony 4K TV.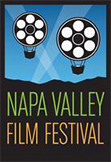 Check out some of the amazing festival moments captured on film in the sizzle reel. http://vimeo.com/81543047
And the Winner Is…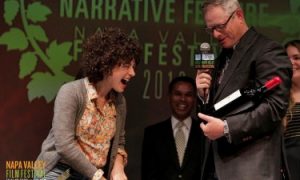 Winners included:
–Best Feature Documentary Alice Walker: Beauty in Truth directed by Pratibha Pramer follows the story of the Pulitzer Prize winning poet, author and activist.
–Best Narrative Feature Hank and Asha directed by James E. Duff offers a new approach to love-letter correspondence.
–Best Animated Short Sleight of Hand directed by Michael Cusack uses stop-motion to reveal illusions.
— Best Short Documentary Sky Burial  directed by Tad Fettig uncovers a Mongolian tribe's view of death.
For a complete list of jury winners and audience awards, check out the festival's results page. You may also purchase tickets and passes for next year's festival which is proving to be even bigger.
Education and Outreach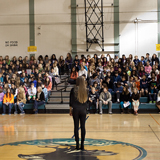 A Goal: Inspiring the next generation is a leading goal of the Napa Valley Film Festival. During the week of the festival, 1,500 middle and high school student attended documentary screenings and immersed themselves in the world of cinema. They also participated in exciting discussions with the stars and filmmakers. Through the education and outreach programs, the festival offered socially-conscious films to local schools and encouraged the next generation to create a critical audience for independent cinema.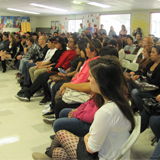 Past Achievements: The Napa Valley Film Festival has sponsored educational programs including: film screenings to more the 2,400 students in 11 different schools; a contest for student to create and produce their own short films and showcase them in the Student Works Program that premiered at the festival; an internship program to give students hands-on experience dealing with festival production and the programming staff, and to help turn these interns into working students throughout the year.

About the Founders: Festival founders Marc Lhormer a veteran event planner and his wife expert marketer Brenda Lhormer, run a small production company Zin Haze Productions that brings independent films to life. One of their best known films, Bottle Shock, looks at the early days of California wine making. Other past accomplishments include Brenda handling public relations for the 1984 Los Angeles Olympics, as well as seminar marketing programs at Oracle and Microsoft while Marc wrote the business plan for Bain Capitol's original start up venture. Along with his dedication to the film festival, Marc's passion for helping students and schools succeed led him to sponsor the City Year Program (a nonprofit organization to engage students in a full-year of service) in Seattle.