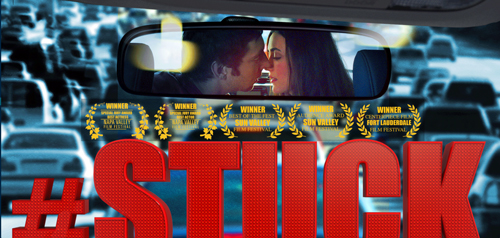 08 Oct

#Stuck – New Film Spotlight

Starting this weekend #Stuck will be screening in select theaters across the country. The production team is coming along for the ride, hosting Q + A sessions after the show, and kicking off their tour in NYC at the Village East Cinema this Friday night. Through a unique combination of independent capitalization, and social media crowd-funding, this film is a shining example of the new paradigm in film production. #Stuck is the most recent release from rising film maker Stuart Acher, and represents the future of independently financed film production and distribution.
A fresh story:
The plot feels like a blend of classic Hollywood motifs, with a distinctly original plot and presentation. #Stuck's two main characters wake up next to each other, after what appears to be a pretty wild night. After realizing she has no way of getting home, Guy, the male lead, offers to give his new lady friend, Holly, a ride home. She reluctantly accepts the ride and the stage is set for a great movie. How did they end up together, and what happens when they hit an impassable LA traffic jam? Watch the trailer below if you want more!
Coming Soon – Pre Order The Film Now!
For one week only, stuck will be appearing in theaters across the country. Check their website for a full list of screenings and Q+A sessions. In addition to this limited release, #Stuck is available now for pre-order on iTunes, and will soon be available on Netfilx and other digital platforms. It takes a truly original idea to penetrate the entertainment industry and secure a place in professional film media. In addition it takes a team of dedicated and hardworking film makers to bring an original idea to life without external financing. We hope you check it out and leave us a comment if you like.