10 Apr

The Art of the Interview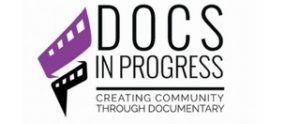 Word Wizards has provided transcription for over 10,000 interviews since we pioneered a method of adding time code to transcripts back in 1995! However, typing interviews is not the same as conducting them. We are now producing a documentary of our own, and we have turned to our friends at Docs in Progress (DIP) to get advice on how it is done. We recently attended a workshop hosted by DIP, led by local documentary coach Adele Schmidt.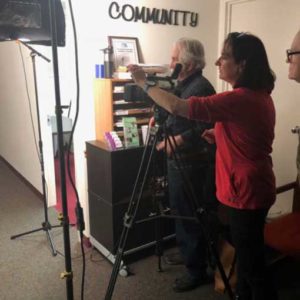 Adele has been a consultant to filmmakers for the last 15 years. She has mentored them at all stages of the production cycle. Films and projects that have been coached by Adele have been broadcast on television, educational outlets, appeared in film festivals, won awards, and secured distribution deals. She is the co-founder of Docs in Progress along with her colleagues Erica Ginsberg and Sam Hampton. Word Wizards has supported Docs in Progress for many years as a corporate sponsor, and we jumped at the chance to participate in this training as we prepare to shoot interviews for our forthcoming documentary film project.
For more about Adele see http://www.documentary-coach.com.
Creating Your Narrative
She began the workshop by stating that the answers to a well-conducted interview can and should provide a filmmaker with an excellent narrative, without the need to rely on a voiceover to tell their story.  However, the interviewer must prepare in order to get useful soundbites that will further this narrative.  Once the footage reaches the editing phase, it is too late to get the most out of the interview.  You can't go back to ask questions that you forgot to ask because you weren't prepared.  People won't stand for it.  They expect you to be professional and not waste time.
Do Your Homework
Research preparation is paramount.  Since our Doc is about historic events in Eastern Europe spanning from before World War Two to the present, we hired a historian/researcher who specializes in the region.  In addition to knowing your subject, Adele suggests that you must also research the individual interviewee.  With knowledge idea of their personal story, an interviewer can encourage their subject to support the narrative by asking well relevant and thought-provoking questions.  By approaching your subject from a place of understanding, you will gain their trust and get the best content possible.
The Trust Factor
Building trust right from the beginning is critical to conducting a good interview. Always communicate beforehand to clarify the focus of the story you want to tell.  Call your subject to let them know you will require a personal release form to ensure they know it's coming. Present the release form after the interview. If they ask for the questions in advance it's OK to send them, some people will want to prepare for the interview and this will give them more time to become comfortable discussing the subject. If it matters, explain what to wear (examples:  solid colors, no white, and no jewelry that clatters or clinks.)
Many people are terrified to be on camera and it affects their performance.  If you sense this is the case, take a break, offer some water, and have a casual conversation.  Reestablish trust often during production, and really listen to your subject.  A professional interviewer must know the subject matter, as well as the witness, does!
Maintain Objectivity
If you have succeeded in establishing trust, signing the release after the interview is usually not a problem.  People usually will only sue you when you use a soundbite in a context that they didn't intend.  Even if you are advancing a partisan point of view, don't let your personal bias impact the interview.  Try to be objective even when interviewing "the Bad Guy".  They have their point of view too.  Try to be objective, and be a professional at all times.
Be a Good House Guest
Set up in advance and restore the set to the way you found it.  Answers can be repeated for clarity or emphasis.  It's OK to say "only the best answers will be used." Coach them to answer in complete sentences. Remind them not to look into the camera. The subject should look at the interviewer, who should be positioned right next to the lens.  A makeup kit with transparent makeup is good.  People want to look their best on camera. The person must be relaxed to give effective answers.  Never put the interviewee in an uncomfortable position or with barriers between them and the camera.
Define Your Angle
The best questions are ones that trigger whole stories.  Example: "Tell me the story about when you…"  That is why it is critical to research the subject matter and the individual's interaction with it.  You must know your angle in advance.  If you want to depend on soundbites to tell your story it's too late to figure it out in the edit suite. Don't cut off the interviewee, but keep them on the subject that supports your narrative angle.  If you solicit unrelated soundbites it only waists time and ends up on the cutting room floor.
That's A Wrap
After the interview thank them for participating. Let them know that you really appreciate them sharing their experiences and their time. Restore the location to the condition that it was when you began.  Show them the release and be sure they sign it in your presence and return it to you immediately.  The interview cannot be used for practical purposes without these releases.
In Practice
During the workshop, Adele gave out sample releases and we practiced her interviewing techniques.  By being prepared, doing your homework, acting professional, and staying on narrative, your interviews should provide exactly what you need to tell a compelling story. Check out Docs in Progress online for documentary film classes, workshops, and peer review sessions.