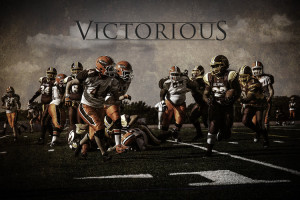 05 Jan

Film Spotlight- The "Victorious" D.C. Divas
Thanks to our friends at WIFV-DC, we recently attended the Reel Affirmations Film Festival's screening of Victorious: Women of the Gridiron. The film is about the D.C. Divas, an all-woman football team that was undefeated in the 2015 Woman's Football Alliance season. Some of the best players in woman's football were present at the screening, along with the filmmaker Robert Mac, to talk about the sport and the challenges of competing in a league that is widely unknown. This is real football played by the best athletes of their gender, but few people outside of their friends, families and supporters attend the games. The filmmaker explores why this is the case.
Shining the Spotlight on Women's Sports
The screening of a 15 minute preview of the film showed a fascinating insight into the world of women who play league football. It got us thinking, women's basketball has a huge following, why not women's football? What role do the TV networks play at keeping this unrecognized talent pool in the shadows? How can these athletes break away from the stigma associated with women in a contact sport? The filmmaker is focused on these issues to draw some well-deserved attention to some of the toughest and most skilled female football players in the country.
(See a five minute trailer of Victorious here – https://vimeo.com/144878763 ).
Filmmaker Captures D.C. Divas Winning Season
Robert Mac is an award-winning filmmaker and the Executive Producer/Co-creator of the hugely popular film – Fat, Sick & Nearly Dead, (available online for free) about the "juicing" health science craze as a way to good health. "Fat" has had over 13 million viewers, and is one of the most successful health documentaries ever made.
Mac embedded himself with this team during the Divas victorious 2015 season, and collected some amazing football b-roll. Any NFL men's team would be proud to review such successful game winning plays at the end of an undefeated championship season. The interviews were compelling glances into each woman's unique life story of how she got there, and the life lessons the game has taught her along the way. Yet nobody knows about them.
Support The D.C. Divas on Indiegogo
It is a story that must be told. The average male NLF player makes $1.9 million dollars per season. The average woman WFA player makes exactly $0. Hopefully, with Mac's engaging story telling, this may not be the case for long. Support their Indiegogo campaign to help bring this team of champions and this league of talented athletes out of the shadows and into the spotlight of professional sports. Don't forget to Check out their accomplishments and schedule on The D.C. DIVA's web site.
For more about the Reel Affirmations Festival see http://www.reelaffirmations.org/
For more about the WFA see http://wfafootball.net/
For more about the filmmaker see http://www.frontridermedia.com/about/