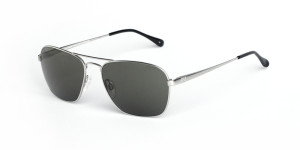 15 Apr

Viral Videos – EnChroma and Valspar's Color for All

Valspar, a paint company, recently collaborated with EnChroma to bring attention to the Cx Explorer – glasses specifically tailored to bring color to the colorblind. The Explorer looks just like regular aviator sunglasses. The key difference, however, is that the Explorer is capable of increasing a person's perception of the saturation of colors.

The video from Valspar involves giving Explorer glasses to people with red-green color blindness, and then showing them different examples of full color. Some of these examples even involved kids' drawings.

The video can be found on Valspar's site: Color for All
How the EnChroma Cx Explorer Works
For red-green colorblindness, the cone cells in the retina that absorb red or green pigment absorb too much of their opposite. There's nothing wrong with the health of the eye, or even the system processing the color. The cones are just mixing the information too much. So, the EnChroma works by essentially inserting a divider between the mixing information. This process allows a person to see colors in their unmixed state, resulting in vibrant variations that were not visible to them before. Unfortunately, the glasses cannot help if the lights overlap 100%, but the likelihood of someone having a 100% overlap is low.
You can read more information on how the Explorer works on EnChroma's site.
EnChroma also offers a Color Blindness Test, which you can take here.
Getting Your Glasses
The glasses can be purchased from EnChroma with eight different frames. The aviator-style Explorer is available in Matte Silver and Matte Black, with Medium of Large frames. The lenses are available as non-prescription or single-vision Polycarbonate Rx, and come in three different types. EnChroma has three categories for the lens type:
Cx-14, for outside use and works as sunglasses (EnChroma recommends this type for maximum color enhancement and effectiveness)
Cx-25, for low-light situations (e.g. cloudy days, bright interior lights, etc.). Recommended for people over 50, who may find the Cx-14 to dark too see properly
Cx-65, for indoor use and primarily with computers/electronic devices with light indicators. This lens is very light, and should not be used as sunglasses or at night driving.
The Explorer runs from $399.95 to $549.95, depending on the options you pick. It can be purchased from EnChroma's site (or you can just click here!).