30 Jan

Women in Film and Video Kicks Off A Revolutionary New Year
WIFV Kicks Off a Revolutionary New Year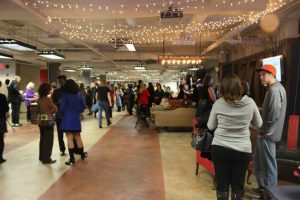 A Truly Grand Start to 2014
The DC chapter of Women in Film and Video kicked off their 35th year in style with a holiday party at the offices of the nonprofit organization 1776. Located at 1133 15th Street, Farragut North, 1776's workplace—and party rental space—features bright, open areas, comfortable furniture and festive ceiling lights, and was the perfect backdrop for WIFV's gathering. Included in the merriment were video professionals, the WIFV board and past presidents including Ginny Durrin. Guests dined on a delicious buffet and an extensive selection of drinks featuring beer, wine and champagne. Also in attendance were Brian Wilbur Grundstrom, the new president of TIVA (Television Internet Video Association), Tim Lorenz from IMG and John Summer from AFI Silver. Among the festivities, raffle prizes included wine classes, tickets to the WIFV anniversary dinner, as well as tickets to National Geographic's Women of Vision exhibit.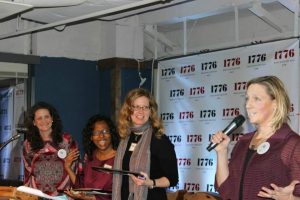 WIFV president Erin Essenmacher welcomed the guests and presenters who recognized exceptional members including: Hillary DePuy and Faith DeVeaux, awarded The President's Award for service to WIFV. And Karen Kasmauskki, awarded the Randy Goldman Career Development Scholarship. WIFV also debuted its first episode of Lunatic Fringe, a new web series produced by the organization. Lunatic Fringe centers on a beauty salon rife with intrigue, comedy and larger-than-life personalities.
WIFV Background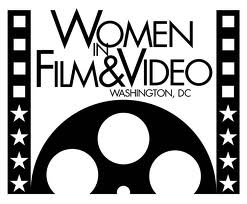 For 35 years, Women in Film and Video has been helping women advance in the fields of film, television and multimedia through networking opportunities and an exchange of ideas and career experiences. The organization got its start when 11 women meet and realized that they wanted the opportunity to network and change experiences with other professional women.  Begun with 35 members, WIFV now boasts a membership of over 1,000 in Greater Washington. In addition to networking events, the organization sponsors workshops on a range of topics from Improving the Sound of Your Production to Budgeting for Your Documentary. WIFV also hosts an annual job fair, panel discussions, and Women of Vision Awards.
Location, Location, Location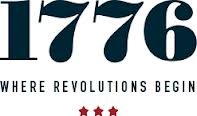 Where Revolutions Begin
The WIFV party venue is the home of the nonprofit 1776. Founders of 1776, entrepreneurs—Evan Burfield and Donna Harris—established an incubator for global startups to tackle major challenges in government, healthcare, education and energy. After passing the rigorous selection process, these new entities now have access to government and corporate leaders, venture investments, politics, business and social enterprises. Their office space known as the penthouse at 1133 15th offers amenities like a fully-stocked kitchen, configurable work spaces, conference rooms with LED TVs and projectors, and access to corporate partners.